Epidemic Planet flies to the US
Nov. 16, 2010
The Epidemic Planet visualization application,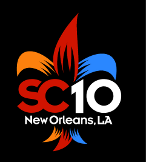 developed by the EpiFor team within the context of the GLEaMviz project, is being hosted in the Exhibition hall of the International Conference for High Performance Computing, Networking, Storage and Analysis (SC10), that is going on in New Orleans, Louisiana, from November 13th to 19th. The EP application can be found at the booth of the Indiana University, partner of the GLEaMviz project.
Epidemic Planet displays the evolution of the 2009 H1N1 influenza pandemic and enables its users to interactively compare and learn about the effect of a number of intervention scenarios. The epidemic spreading on the global scale is simulated using GLEaM.
The application is in continuous evolution, and it has already been shown at the Science Gallery of the Trinity College in Dublin, at the Edinburgh International Science Festival, at the Science beyond Fiction event at the EU Parliament in Strasbourg, at the CosmoCaixa Science Museum in Barcelona, and more.
The venue of the SC10 Exhibition, in which the Epidemic Planet is hosted, is the Ernest N. Moriale Convention Center (ENMCC).
Come and visit the Epidemic Planet in New Orleans!